Tool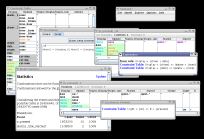 Statestep is a unique tool that helps you to manage large numbers of combinations of conditions. Even if you are dealing with millions or billions of possibilities, Statestep makes it easy to systematically define a set of rules covering all cases, ensuring nothing is overlooked.
How does it work? There are several original elements, for example, a constraint table is a kind of logical spreadsheet to help you to exclude impossible cases. But key is the use of changing colours to help you to navigate through the remaining cases, without ever having to list them individually. (If you're colour blind, don't worry – the colours are configurable.)
Click the image for a full-size screenshot. For an introduction to how the tool works, check out the first two or three pages of the tutorial.
Statestep v1.3 is available to download here.
Note: for those who need automatic code generation, a set of template packages are available as separate downloads.
Questions, comments?
info3
@
statestep
.
com